Real Las Vegas Hardwood Shutters

Everyone will notice your real hardwood shutters as soon as they walk in the door!
People in the know across the Valley have installed stunning shutters, shades, and window treatments designed, built, and mounted by Best Buy Shutters. Never settle for good shutters when you can get great shutters from Best Buy Shutters. We carry a complete selection of the most popular window treatments available. And when it comes to creating your own one-of-a-kind concept we work hand-in-hand with you, making suggestions and overcoming design issues to make your dream a reality.
Get the best window treatments that check off all your boxes for affordability, privacy, light control, insulative factors, maintenance free, and more. Gain value for your home while enhancing day to day comfort and living. Selecting window treatments is easy when you have the experienced pros, pricing, selection, and samples from Best Buy Shutters. Window wizards who have been dressing and blessing windows for over 40 years. We know what people prefer and what is trendy and what's not. Whether you are remodeling or doing a first time installation, you can rely on Best Buy Shutters every time!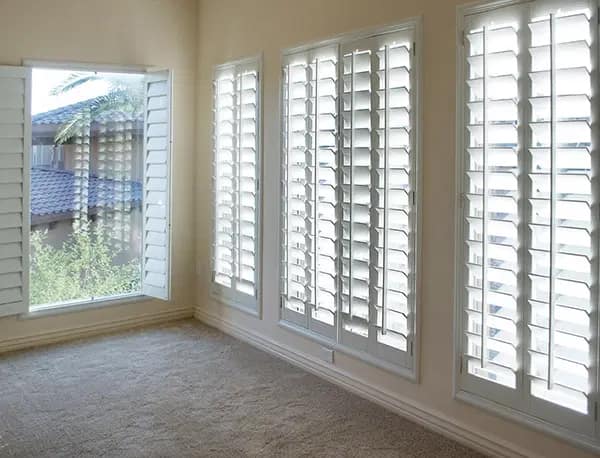 Control the Sunlight with Shutters
Homeowners who want visual impact, high control of incoming light, and low maintenance tend to prefer shutters. These are for those of us who like to set it and forget it. They're often the best choice for high and hard to reach windows. Modern-day shutters offer a wide variety of construction materials. What that means for you is a terrific variety of designs, patterns, colors, and styles to chose from. They are easier to maintain and last for about as long as the house.
Like most valley residents do, turn to Best Buy Shutters when upgrading your dated window coverings.
Give your spaces the trendy and timeless look they deserve with shutters. Hardwood shutters, and wood shutters in general, are the gold standard for plantation shutters- they are high end and elegant, but light-weight and strong. It is a popular choice of window treatments in the valley as the smooth wood finish of hardwood shutters is hard to overlook. Your windows don't go unnoticed when you've got hardwood shutters up.
Free In-Home
Design Consultation
Why Choose Real Wood Shutters?
Hardwood shutters are a great home addition because they bring warmth and coziness. Hardwood is harvested from flowering trees and angiosperms like walnut, maple, basswood, oak, and cedar. This wood is a superior material for windows and quality furniture. When used together in both window coverings and furniture, the entire room's design feels connected. Different stains can be used to enhance the natural wood, while some people prefer the unlimited color options of using paint instead. When you are feeling bold, have a vibrant color splashed on and make it the room's new focal point. For a cleaner look, throw a few coats of white paint on and your space becomes modernly new and elegance. It's easy to up-style any room with hardwood shutters or to match shutters to your current decor.
Hardwood, while not as light as composite or vinyl , is lighter enough to install on most surfaces. Hardwood shutters can be designed and used to span long distances without warping or sagging. The strength to weight ratio in hardwoods is higher than in other materials, making it one of the strongest window treatments you will find. Additionally, the flexibility of wood allows customization for every shape of window: arched, trapezoidal, long, wide, or narrow. There isn't a window we can't cover!
Lower Maintenance and Long-Lasting
Smarter is better when you are looking for new window treatments. Invest in easy to maintain, long lasting hardwood shutters. Unlike vinyl and polywood shutters, hardwood will not create static electricity. That means you do less dusting and cut your cleaning time in half! Dust and lint will not migrate or stick to it as readily. Hardwood shutters are low maintenance, yet incredibly strong and stunning, so it is a win-win all around.
Adding hardwood shutters to windows increases the value of your home. It's like having custom wood pieced together to enhance your space. Once hardwood shutters are installed, they become permanent fixtures, custom built to fit your home's uniqueness and your home only. Tired of seeing the same old window treatments in home after home? Fear not! Best Buy Shutters hardwood shutters stay on brand for years.
Financing Available
18 Months To Pay With No Interest
Our financing makes it easy to have the window coverings you want now and you can pay over time. Your Best Buy Shutters Design Consultant will go over all options and help you through the entire process.