The Best Shutters in Las Vegas are Made In Las Vegas
A lot of planning and coordination goes into making shutters for today's homes and their windows. Shutters are the most popular treatments people choose for windows and they search high and low for affordability and good quality. The search is over when you come to Best Buy Shutters. We make it easy to find or design the window treatments you've dreamed about. With over 40 years of experience under our belts, we create the toughest, tightest closing, and most stunning shutters available in all of Las Vegas. Just ask your friends and neighbors.
SHUTTERS ARE TYPICALLY MADE OVERSEAS
What that means is you get stuck with one of two poor options: either you are going to wait a really long time to finally get them or you are going to get the same off the shelf discount shutters commonly seen around town. Yep, the average shutter company meets the supply container coming in from China at the docks in Long Beach, California. They load them on a delivery truck, and roll up to a warehouse in Vegas where, if you're lucky, they sit until your order comes in. If you're unlucky, you place your order and wait 4 to 6 weeks for the ship to come in. The process is long, lengthy, and cookie-cutter.
STRONGEST IN THE DESERT
We use modern and reliable machinery to craft the best custom-built shutters possible. Thousands of shutter panels and superior-quality products result each day. Raw materials are honed, shaped, notched, and grooved to form frames. Louvers, pulls, hardware, and more get the perfectly finished. Skilled artisans pay attention to every detail knowing if you're not going to be completely happy, they won't be either. We create the best of the best because we don't buy split wood, easily torn material, warped louvers, or low quality fasteners.
SPECIAL PROJECTS ARE OUR SPECIALTY
Got hard to reach, awkward windows? Might be an interior designer's dream and a focal point but your nightmare to cover? We custom-build shutters for special windows too!  Arches and asymmetrical shapes are hand-built on our pattern table. The painstaking process, from initial measurements to assembly and finish, needs professional knowledge and experience matched with discerning eyes and sensitive hands. Rely on us. Your windows will be grateful and you'll be happy.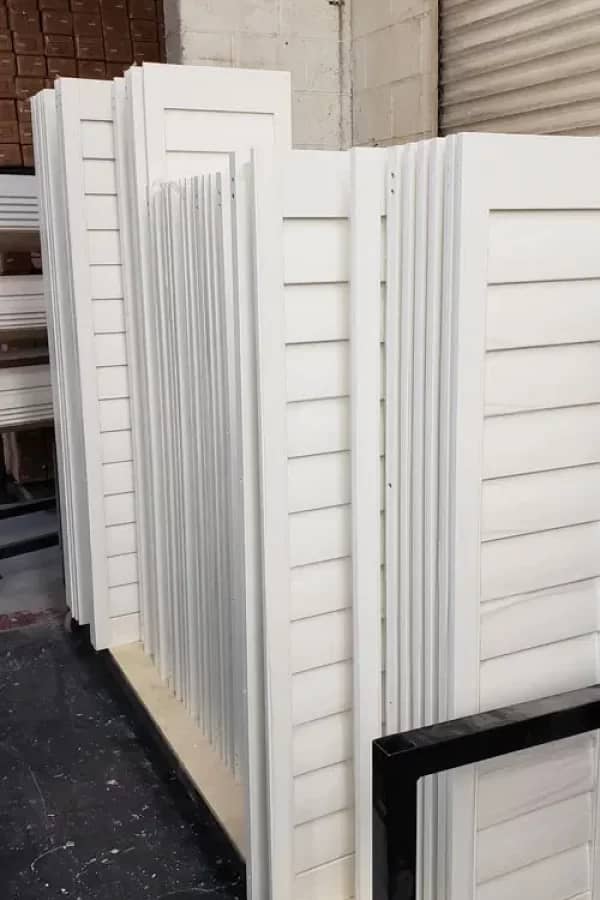 YOUR WINDOWS DESERVE STUNNING TREATMENTS
We are home to the most beautiful and unique shutters in all of Southern Nevada. Our High-Tech PolyCel
®
 Shutters are energy efficient, scratch and fade resistant, and extremely durable. They are the ultimate window treatments for Nevada homes and offices. High-Tech PolyCel
®
 Shutters reduce solar heat by blocking out 99% of the sun's powerful and destructive UV rays. With a micro-smooth finish cleaning is easy and they are virtually maintenance-free. Everyone desires our High-Tech PolyCel
®
 treatments for their windows and we make them affordable for you. Whether you want elegant, avante garde, or traditional looks, we've got you covered. Choose from our different window covering options, let us know which ones you want, and we'll get them done for you. Besides our High-Tech PolyCel
®
 Shutters, we also carry:
Hardwood shutters
Plantation shutters
Venetian blinds
Mini blinds
Macro blinds
Vertical blinds
Panel Track blinds
Cellular shades
Roman shades
Horizontal sheer shades
Woven wood shades
Pleated shades
Solar shades
Sliding panel tracks
With the largest selection of blinds and shades in all of Southern Nevada, we are your home for every window treatment need. When you aren't sure how to style a space or simply don't know the first thing about different window treatments, coverings, and options, turn to us, the professionals. Our staff has expert design consultants equipped to help your vision become reality. Everyone will admire what you have done.
SEE WHAT OUR CUSTOMERS SAY

Ben Sherman
Best Buy Shutters was once again fantastic.
This is our fourth house with them and each time they don't disappoint. We always receive fantastic customer service, great communication between myself, my wife, and the staff, and our shutters were made in the time frame they promised. We've sent Best Buy Shutters quite a bit of business, and they've provided my referrals with the same level of customer service and promptness. I love the new shutter type that they just upgraded to making as well. You can tell this business really cares about feedback from their customers. Best Buy Shutters thanks again for making my home look gorgeous!

Maria Esperanza
I was so pleased with their service
Best Buy Shutters just left my house, as they just finished installing my shutters. I was so pleased with their service from the moment I gave them my deposit till the very end of the process. I was a bit concerned reading other reviews, but I decided to give them a try and I'm so glad that I did. My sales associate was nice and a pleasure to work with, the lady in the office kept me updated on the status of my order, and she made sure to schedule a day that worked for both my husband and I. When it came time for the install, the installers were quick yet efficient and my shutters look so good! I'm very happy with my overall experience and I have a rental property that I'll definitely be having them do as well. I 100% recommended this business to anyone looking for shutters.

Robert Taylor
Best Buy did everything they said they would
I purchased shutters for 29 windows from Best Buy Shutters and just had them installed last week. We are so happy with them. Best Buy did everything they said they would and are a top-notch company to deal with. We shopped around and felt most comfortable with Best Buy Shutters because they actually make the shutters they sell, was the only company to fully answer all of my questions, and they were very professional. I also loved having a tour of where they manufacture their shutters. Our salesperson Nichole was respectful, knowledgeable, and most importantly was not pushy. We could also tell that their product was superior in quality. Thank you Best Buy Shutters. We are very happy customers and highly recommend this company.

Emily Sutton
An absolute five star service
My experience with this company was fantastic which is why I gave them 5 stars.

David Wentworth
Marcel thoroughly explained the product, options, and the purchasing process.
Cannot say enough good things about Best Buy Shutters and their product. From sales through installation, totally professional. Marcel thoroughly explained the product, options, and the purchasing process. Casey is truly professional; taking pride in his work, taking time to explain the installation, and ensuring we had a complete understanding of shutter operation and care. I am so pleased with how my entire process went with Best Buy Shutters. I also love that they make everything locally in Las Vegas and being family owned. I highly recommend this company.