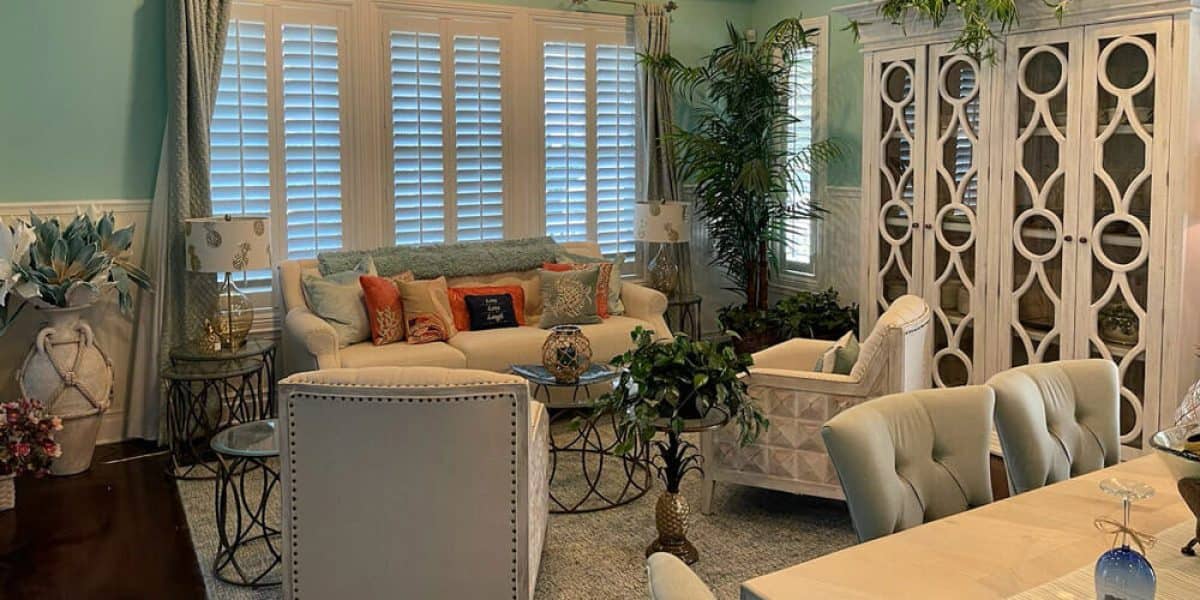 Our Design Center Has INSPIRATION AND EXPERTISE!
Each room of your Southern Nevada home has its very own decorative style. You're either the type of person who has a vision, or you know what you like when you see it. Either way, our design experts and consultants carefully listen to you and conscientiously work to meet your unique desires. Rest assured the people who work with you have resided in Nevada for years. They have dealt with our harsh climate for decades. They relate to the scorching heat of summer and the icy chill of winter.  Additionally, each has a deep appreciation for the diversity of lifestyles, cultures, and values within our community.  They stay  abreast of modern trends and are well rooted in classical and traditional styles as well.  Whether you're looking to go out on the avante garde edge or keep to something time tested and conservative, our design team will get you there. Window treatments should fit the unique palate of each room to create the perfect ambience. 
Beyond competent, our consultants fully understand the vast variety of materials that might be used used in constructing your shutters. After all, they walk passed our factory in Las Vegas every day. You will find none as qualified as ours in the area.
Let us show you just how exquisite Las Vegas window shutters can be for your living room, bedroom, or kitchen windows. We collect all the latest home fashion ideas and are glad to come to your home for free at your convenience to help spark creativity .
Your Custom Window Treatment Design Ideas
We collected and curate images of window treatments in houses around Southern Nevada and from across the world so you can leisurely browse through them and imagine what your windows might look like.
We take you backstage so you can see how your shutters are designed and manufactured. Discover how we make them fit your windows seamlessly – from the consultation to the installation, we're with you every step of the way. And we offer tips and tricks to help you properly maintain your plantation shutters.
We know the answers to the most asked shutter design questions.
SEE WHAT OUR CUSTOMERS SAY

Ben Sherman
Best Buy Shutters was once again fantastic.
This is our fourth house with them and each time they don't disappoint. We always receive fantastic customer service, great communication between myself, my wife, and the staff, and our shutters were made in the time frame they promised. We've sent Best Buy Shutters quite a bit of business, and they've provided my referrals with the same level of customer service and promptness. I love the new shutter type that they just upgraded to making as well. You can tell this business really cares about feedback from their customers. Best Buy Shutters thanks again for making my home look gorgeous!

Maria Esperanza
I was so pleased with their service
Best Buy Shutters just left my house, as they just finished installing my shutters. I was so pleased with their service from the moment I gave them my deposit till the very end of the process. I was a bit concerned reading other reviews, but I decided to give them a try and I'm so glad that I did. My sales associate was nice and a pleasure to work with, the lady in the office kept me updated on the status of my order, and she made sure to schedule a day that worked for both my husband and I. When it came time for the install, the installers were quick yet efficient and my shutters look so good! I'm very happy with my overall experience and I have a rental property that I'll definitely be having them do as well. I 100% recommended this business to anyone looking for shutters.

Robert Taylor
Best Buy did everything they said they would
I purchased shutters for 29 windows from Best Buy Shutters and just had them installed last week. We are so happy with them. Best Buy did everything they said they would and are a top-notch company to deal with. We shopped around and felt most comfortable with Best Buy Shutters because they actually make the shutters they sell, was the only company to fully answer all of my questions, and they were very professional. I also loved having a tour of where they manufacture their shutters. Our salesperson Nichole was respectful, knowledgeable, and most importantly was not pushy. We could also tell that their product was superior in quality. Thank you Best Buy Shutters. We are very happy customers and highly recommend this company.

Emily Sutton
An absolute five star service
My experience with this company was fantastic which is why I gave them 5 stars.

David Wentworth
Marcel thoroughly explained the product, options, and the purchasing process.
Cannot say enough good things about Best Buy Shutters and their product. From sales through installation, totally professional. Marcel thoroughly explained the product, options, and the purchasing process. Casey is truly professional; taking pride in his work, taking time to explain the installation, and ensuring we had a complete understanding of shutter operation and care. I am so pleased with how my entire process went with Best Buy Shutters. I also love that they make everything locally in Las Vegas and being family owned. I highly recommend this company.